COCKTAILS: If you like piña coladas … 
Adam McDowell sees your dry January and raises you a hot, wet February 
A decade ago, Peter Seely — grandson of the late, great tiki god "Trader" Vic Bergeron, who was then CEO of what remained of the Trader Vic's empire of tiki bars and related products — told me that the company's sales peak in the winter. That's when people crave summery drinks the most.
I imagine that's still true, because hey: There's nothing like slush season to make one yearn fiercely for subtropical sunshine and all its trappings. Who, looking out the window on days like this, would refuse a drink that's redolent of coconut, lime, pineapple, and enough rum to trick your brain into not thinking about the RRSP contribution deadline?
But because a tipple that's served over a bed of crushed ice can feel incongruous when it's -10C outside, I've lately been experimenting with tropically inspired drinks that aren't quite brain-freezing cold. In fact, I can recommend a couple that are actually hot.
That way it can be summer on your mind and winter in your belly.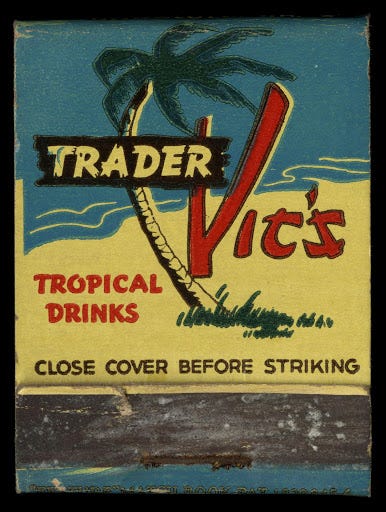 Here are three options, in order of most effort to least:
Clarified piña colada punch
You may recall this Moose Milk missive from just before Christmas, which attempted to talk readers into making clarified milk punch.
Tl;dr = you deliberately curdle hot milk by adding it to booze, strain out the solids, and yum: a tasty and clear punch. Impressive! It involves some rolled-up sleeves, but your guests will lap it up like thirsty cats.
I realize most of you are probably going to hold out and just freeload a cup of milk punch when someone else fiddles with jelly bags and boiling milk and all that. But for the handful who are industrious enough, here's a fun rendition: this piña colada-fied milk punch, from the digital booze mag Punch.
It incorporates the basic elements of the OG piña colada — rum, coconut, milk and pineapple (or RCMP, to quote the mnemonic I was taught at bartending school in the '90s) — but in a clever way that makes the overall effect lighter, more contemplative and more nuanced. In terms of viscosity and flavour concentration, it has the charcter of a stirred drink, like an old fashioned; you can pour it over a big ice cube and use it as a sipper by the fire.
Hot buttered rum
I suspect 100 times as many people have heard of a hot buttered rum as actually tried one. That's a shame, because there's something enchantingly soul-warming (and therefore February-appropriate) about it.
There's a slew of hot buttered rum recipes out there, as is inevitable for a drink that's centuries old, but I'm recommending a relatively recent one, from the tiki bar Smuggler's Cove in San Francisco.
It all starts with a "batter," which you can make ahead of time in a big batch. The recipe is available in their 2016 book, and online here, and it looks like a lot of ingredients but mostly it's just a bunch of (wintery, delicious) spices you should probably have in the pantry anyway, plus butter, obviously. And don't worry about the fact that that molasses brand doesn't seem to be available in Canada; I just used what they had at the Sobey's.
A skull mug is de rigeur for hot tiki drinks. What, you losers don't have one?
Follow all the steps and you end up with a huge brick of buttery-sugary-spicy goodness, enough to make perhaps dozens of hot buttered rums — the supply will suffice to get you through winter, at any rate.
To enjoy, you mix aged rum, a tablespoon of the batter and hot water in a mug (I also discovered that hot black tea tastes as good as water, plus CAFFEINE!). Then bask in the warming glow that the savoury-sweet liquid causes to radiate through you, right down to your frostbitten little toes.
Caribbean hot swizzle
Speaking of Trader Vic, the lowest-effort number in our trio today is a drink that Vic himself claimed his "French" mother (she was Québecoise) gave him as a kid when he was sick.
But as tiki aficionados know, Bergeron never let the truth get in the way of a story that might sell a few rum drinks. For one thing, he used to claim his wooden leg was the result of a shark attack somewhere in the Pacific. He let customers stab at it with their cutlery. In reality Bergeron lost the limb to tuberculosis as a boy.
Anyway, whatever the origins of the Caribbean hot swizzle, it's really just a sort of hot daiquiri — in other words, a combination of lime, water, sugar and rum — and that's a centuries-old drink in its own right.
The official version in my 1972 edition of Trader Vic's Bartender's Guide is a quarter-ounce of rock candy syrup — rich simple syrup is definitely close enough — juice of half a lime, 1½ ounces Jamaican rum, and about six ounces of hot water to fill the mug.
The 1968 Trader Vic's menu below calls the Carribean hot swizzle "a strong man's drink," which sort of clashes with the little old French (sic) lady narrative mentioned above, but I think the point is: This is something we can all enjoy. As human beings we all suffer from the cold, we all dream of warmer places, and we can all appreciate a well-timed, nicely warming pick-me-up to lift our sails in the doldrums of winter.
This menu page is one of the least racist and sexist pieces of pre-1970 Trader Vic material out there. You wouldn't believe the cover page.
(Courtesy New York Public Library)