BALTIC AVENUES: Bar-spreading, or The Lithuanian Plan
There's never been a better time to fight for our public space, writes Christine Sismondo
My colleague recently suggested a simple proposal to help bars survive the challenges of the coming months, namely, wholesale alcohol pricing.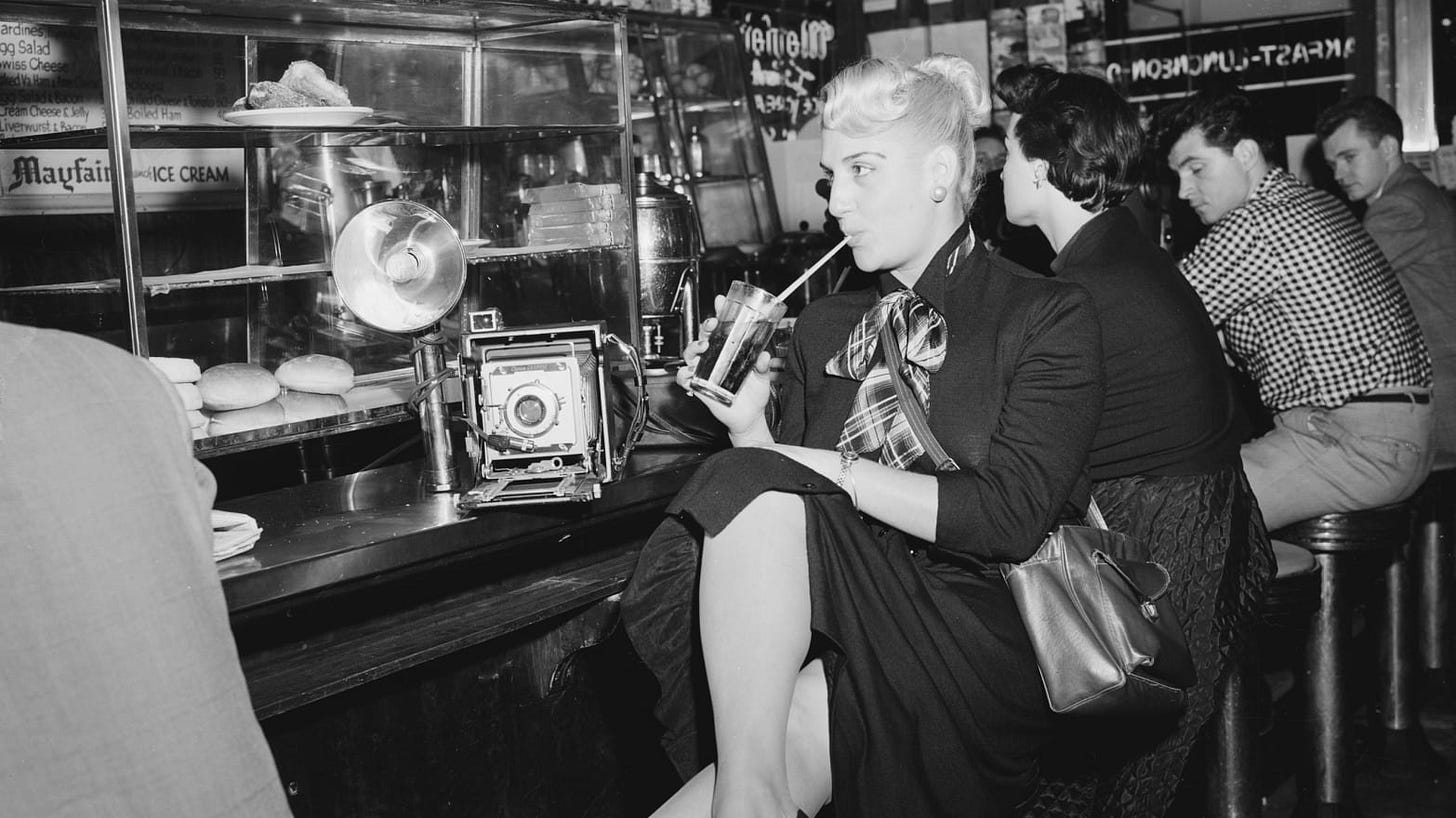 I'm all for it. It's not going to be enough. Why not? Well, there's an old cliché from the bar/restaurant industry that goes like this:
Q: What's the most expensive thing in a restaurant?
A: Empty tables.
Yes, when it comes to public eating and drinking, real estate is everything. That's why so many of them have tables practically stacked on top of each other, especially in cities with high commercial rent. And these establishments have to keep their tables and bar stools full and turning every night just to break even.  
Here's the problem: Everybody's best guess for the guidelines for the safe re-opening of licensed spaces is that socially distant public drinking guidelines is going to translate into about 25 or 50 per cent capacity. That's a non-starter for almost every business I know, according to basic industry math.
So I have a proposal for that—albeit a complicated and ambitious one that has roughly zero chance of being taken seriously, but I still think is worth pursuing. Now, first off, this is not my original idea. I call it the Lithuanian Plan, since it's recently been implemented in Vilnius, that Baltic state's capital. And I just think we should steal it.

Vilnius panorama. Photo credit: By Lestat (Jan Mehlich) - Own work, CC BY-SA 3.0,
Follow the jump and read or just take my TL/DR version: The powers that be in Vilnius decided to let its city's café culture spill out into public spaces and allowed owners to put tables and chairs into squares, so that they can keep the same number of tables, but spread them out to create safe distances between them. I'm going to call it bar-spreading.
To a certain degree, some of this exists in a lot of places already. A few years ago, I spent a night in a square in Cartagena filled with tables and chairs that belonged to all the surrounding restaurants. You ordered from whichever waiter got to you first. And, if your friend wanted something from another restaurant, that was fine, too.
The problem with implementing a bar-spreading program in most North American cities is that, unlike Spanish colonists, the early British settlers didn't prioritize public space—we have no zócalos and way fewer pedestrian arcades. Since then, there have been a few attempts to institute public space, but, essentially, the cities are still built for cars to move through.  
That said, there's at least some possibilities. For instance, a place that comes to mind in Toronto is the park attached to the Gooderham Building (a.k.a. the Flatiron Building). It's the one with that charming doggo fountain (for the record, there is one cat there, too). There are a half-dozen or more bar-restos/cafés on three sides of that park that could all use that space to spread out. Maybe Gooderham & Worts could sponsor it. (If that happens, I want a finder's fee, by the way.) Parks could be repurposed at night. I went to a magical wine bar in Rome a couple years back where everyone just grabbed their drinks and sat at tables spread out through the adjacent park. It was brilliant. We can do that here, too.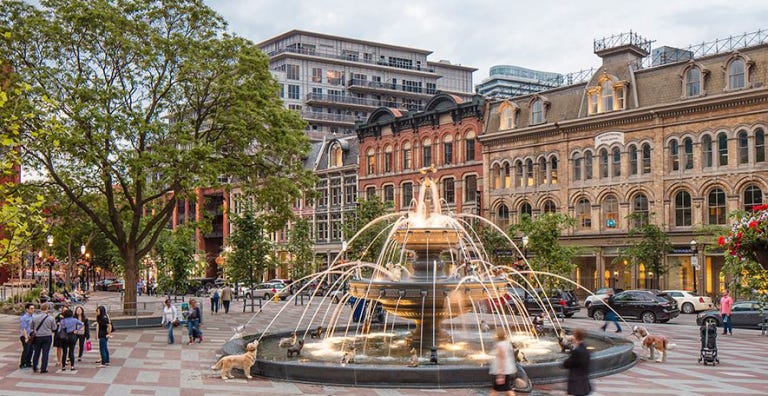 For Toronto trivia buffs, this is Berczy Park. To everyone else, it's "that doggo fountain." Either way, a perfect spot to cultivate some cafe culture. Courtesy Tourism Toronto
Only a fraction of bars and restaurants are situated as ideally as the restaurants around parks, parkettes and public squares, of course. It's a start, though.
For the rest, I have an idea that's even more likely to be rejected than the other one —implement the King Street West pilot project on as many streets as we can possibly take over for the entire summer of 2020. Eliminate street parking to save our local businesses. Shut down Kensington Market to traffic completely starting at 4 p.m. and let the tables come out like the restaurants in the night market of Marrakech or Penang.
Once, a long time ago, I used to work for the Annex Business Improvement Area. It was in that job that I learned that parking spaces typically cost small local businesses money, despite what those cigar-smoking business owners on King West say. Pedestrians (like vodka) pay the bills. 
Yes, this is a war on the car. I'm not afraid to say it. As such, it won't be a popular idea with our esteemed mayor, who represents suburban voters. With them, restrictions on parking and speeding through our city is a wedge issue. Those people, though, have been setting the agenda for too long and it's time to take back our streets—to save our bars.
The case has never been easier to make. Traffic is minimal in our cities right now. When things go back to "normal," it should still be down, given the number of businesses who will have figured out they don't have to rent office space if everyone works remotely.
This might seem like a radical argument. It's not, though. What's the cost of losing the massive numbers of bars and restaurants who can't make ends meet? Aside from lost jobs, it will take years to re-establish a city that people long to live in so they can access the choice, the excitement—"La Vida," as they say in places with public space. Property will be devalued. And what about our tourism industry? Nobody will want to visit Toronto if it's a bunch of empty storefronts and shuttered bars. People will go to Taiwan, Singapore and Lithuania instead, where they managed to hold on to the things that make them special places.
This is, in fact, actually a fairly conservative argument I'm making, namely, that we need to invest in our cities so we can hold on to our assets. There will be a dividend in the end, beginning with the fact that this summer, instead of watching businesses fail and watching Netflix in our homes and waiting for social breakdown, we can all be outside together in parks, laneways and side streets toasting each other from tables six feet apart.  
They say now is the time to think big and change the things that are wrong with the way we live. And, most everybody who lives downtown knows that people aren't prioritized as highly as cars. If we boldly reject that framework and campaign for bar-spreading, we can help save our bars and restaurants and re-imagine our city for the better. Hopeless? Maybe. But that doesn't mean it's not worth trying to do. 
Bars would have to do their part, though. As a recent correspondent pointed out to me, the "industry" is widely known for its cavalier disregard of the health and safety of its workers and, by extension, the community at large. To participate in programs like this, we'd need mutual trust that reforms would take place within the industry, too. But that's another episode…